Thought I'd post up some of the story of my old VMX bike.
So after years of procrastinating over whether or not to have a crack at vintage era motocross, I finally bit the bullet and bought a project bike.
Now I've always been a 4 stroke sort of guy and a ring ding just wasn't what I wanted so a quick "Wanted" ad in the local rag saw this come to light.
Washed all the crud off it and found it wasn't a bad ole stick for $200.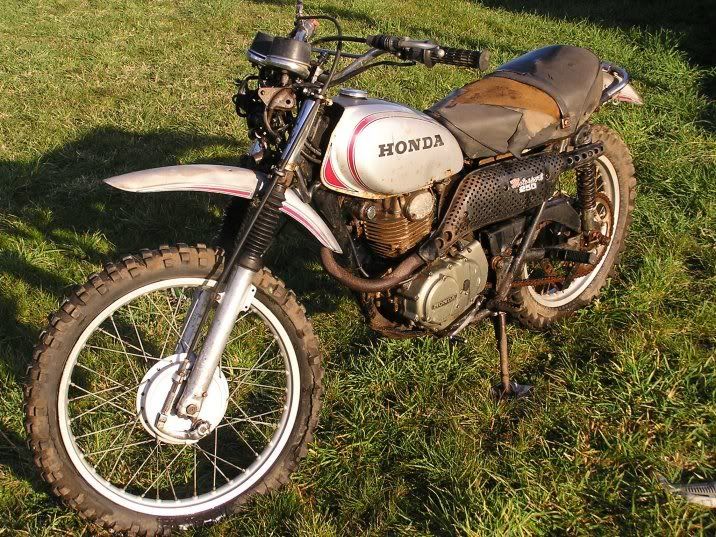 Hadn't seen the light of day for years, yet in typical Japanese style a tinker with points and a shot of fuel down the plug hole, she fired and putt, putted away happily.
So first job was to strip a bit of excess weight off it.
Well, I didn't want to start hacking pieces off the frame so all brackets etc. were left stock. Frame was whizzed off to the sandblaster and I sprayed her up in 2 pack Black.
Stripped the (corroded) anodizing off the rims and polished 'em up, cleaned up the hubs and spayed them in Silver and laced up the rear with SS spokes (fronts weren't too bad). I also fitted an XL350 swingarm which is approx. 25mm longer than the 250 item, and is a popular mod for these bikes, as well as a new set of YSS shocks, and sent a bucket full of bits off to be re-zinced to arrive at this point.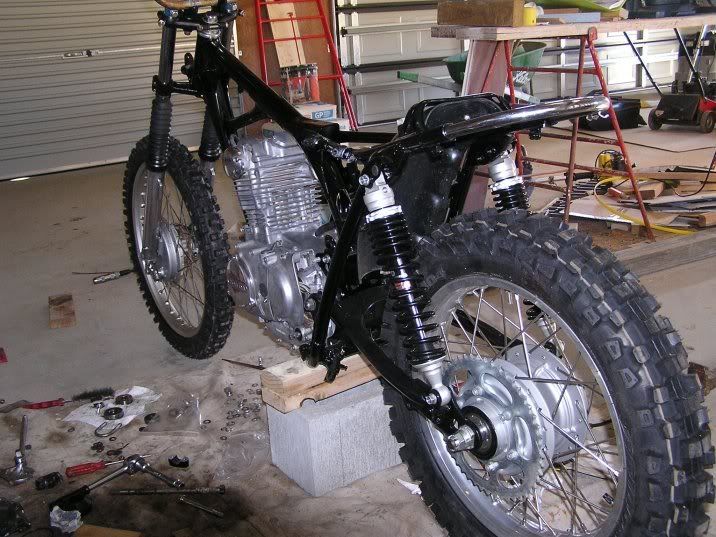 Had a go at spraying the tank and reckon it came up nice if I do say so meself.
The local paint shop hand mixed the colour to match the old paint for bugger all cost, which just left me to do the easy bit.
I made up an aluminium left side cover (much easier than I'd thought it would be!) had an old Peter Allen Power Pipe modded to fit and topped it off with a SuperTrapp "silencer"
Had the bike almost done when I decided to mod the motor a tad with a 305cc big bore, needle roller Megacycle cam and hardened rockers. The needle roller cam requires the head to be line bored and it seemed near impossible to get this done by anyone in Oz?? So I bought a cheap head in the USA and had it shipped directly to XLint Performance over there. They sorted out the head work and sent me this little package.
Final result was a great little bike with plenty more grunt than it had. In the time I owned this I had an absolute blast on it, which is why I'm thinking a bigger version of this as a "cafe racer" roadie would be a hoot to run around on.