I've been fitting these "Jardine" pipes (4 into 2) on a Z900-A4.
I notice on the LHS two header pipes there are two bolt holes (one in each pipe), with the appropriate bolt plug (approx. 6mm thread). These can only be viewed from under the bike.
Anyone know what they are for? They look like adaptors for oxygen sensors, however, these are pipes from the seventies!
When I assembled the pipes, Pipe #1 and pipe #2 had the plugs.
On further investigation, I reasoned that pipe #1 was interchangeable with pipe #4, as both these pipes were straight (without offset bend). So I swapped them.
This meant that now pipe#1 & 2 had a plug on that bank and pipes #3 & 4 had a plug on that bank.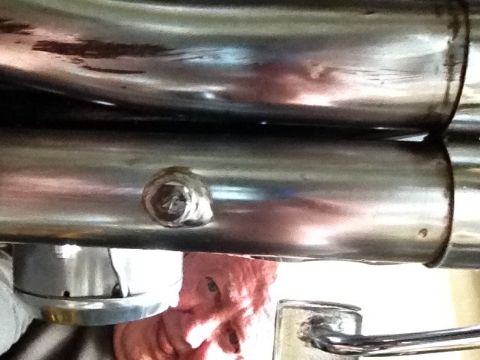 This is a photo of the plug from underside of bike, it's simply a 6mm bolt.
I usually poke my tongue out when making photo's
This plug is just before two pipe combine on right side of Pic above.
The other plug is just before the other two pipes combine.
Me thinking maybe a balancing device? However, it been suggested that a condensation drain plug could be the answer! but why only on one pipe.
Anyone with these "seventy" pipes.
RegardZ